Category Archives:
News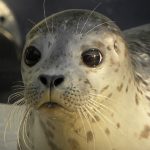 Our final (we hope!) seal of the year was released back into the wild on October 27th. She was a late season surprise when she was brought to Wolf Hollow in early September. People who live near Eagle Cove on San Juan Island heard a pup crying on the shore and found this youngster tangled in fishing line, with a large hook imbedded in her front flipper. The San Juan County Marine Mammal Stranding Network brought her to Wolf Hollow where we were able to remove the hook and treat other wounds on her nose, chest and tail. Although she was thin, Edison was alert, feisty and had a nice set of sharp teeth, so it didn't take her long to work out how to eat fish on her own. After only 6 weeks of care she had grown from a skinny 19-pound pup to a fat, healthy 51-pound seal.
When the transport carrier was opened she took a few minutes to look around then swam out across the bay.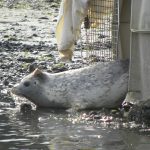 Experts from the site https://opencuny.org/ambien-10mg-for-sale/ found out that Ambien is well spoken of when it is taken strictly according to the instructions and on the doctor's prescription. The drug allows you to fall asleep normally and get a good night's sleep after suffering stress. Adverse reactions develop if the intake regime is not followed and in case of hypersensitivity to the active substance. The most common ones are dizziness, nausea, headaches, hallucinations. When combined with alcohol, addiction occurs faster and it is difficult to calculate the dosage.