Our "baby season" for 2019 came to a close on Nov 21st when we released our final youngsters of this year – 3 young deer and 7 raccoons.  These youngsters came to us as tiny fawns and kits in early summer and spent the following months growing and learning skills in preparation for life in the wild. 
The young deer tentatively stepped out of the trailer and slowly moved off through the woods, nibbling as they went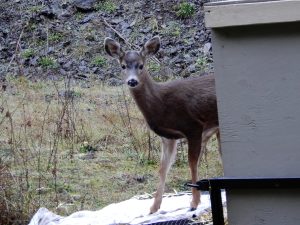 Later, the raccoons took a few minutes to emerge from their transport carriers, then trundled off through the bushes to climb a tree.