It is with great regret th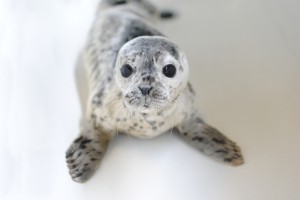 at the staff and board of Wolf Hollow must announce the suspension of our marine mammal rehabilitation program for 2016. There are a number of contributing factors, the main one being the lack of the necessary financial support to provide care for these animals. This will in no way affect our ability to rehabilitate the other species of animals we care for at Wolf Hollow.
Marine mammals fall under the jurisdiction of NOAA Fisheries. There are stringent regulations and standards for specialized  facilities and care, and Wolf Hollow must follow these standards closely.
Harbor Seal pup rehabilitation is time consuming and costly, with an estimated cost of up to $3,000 each.  In the coming year, we plan to make further upgrades to our Harbor Seal facilities to meet current standards.  As soon as the project is sized, we'll be launching a fundraising effort to raise funds for the facilities upgrades as well as the rehabilitation costs.  
Our goal is to reintroduce our marine mammal rehabilitation program by the end of 2017.