Our last two seals of 2017 were released, bringing our total to 8 pups successfully rehabilitated and released this year.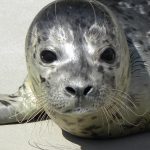 Longhorn was brought over from Lummi Island in mid July. She was about a week old and was weak, thin (only weighed 13 pounds), dehydrated and had an umbilical infection. It took several week for her to recover from her health issues, but when she was released in mid-October, she was fat, healthy and weighed over 50 pounds.
Tux was also about a week old and weighed ~21 pounds when he was sent to Wolf Hollow by Whatcom County Marine Mammal Stranding Network at the end of July. He quickly recovered and weighed over 60 pounds when he was released.