Critter's Christmas Event
Take a break from your hectic Christmas planning to do something different. Join Wolf Hollow staff and board members for a Critter's Christmas. Drop by the Mullis Community Senior Center in Friday Harbor between 5pm and 8pm on Friday, Dec, 11th for a hot drink and Christmas cookies, to learn more about the animals we care for at Wolf Hollow and to share your favorite local wildlife story.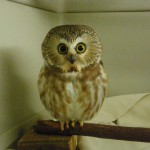 Bring an item from our special Critters Christmas Wish List as a holiday gift for our local wild creatures and take home a handmade tree ornament. We look forward to seeing you there. 
Special Critter's Christmas Wish List
Nuts out of shells – walnuts, peanuts, almonds, pecans etc (for young squirrels, small woodpeckers etc)
Nuts in Shells- for older squirrels and larger woodpeckers, 
Batteries AA, AAA, C- for pagers, handheld mixers, and observation cameras
Dog Food- to supplement diets for a range of animals including gulls, racoons and crows.
Kitten Food- used in our special songbird diets.
 Cat Food- to supplement diets for opossums, otters etc.
Trash bags – for…guess what!
Hoses- – to get water out to cages on our 40 acre property.
Clear packing tape- for closing up boxes to mail lab samples and to secure cage covers when transporting animals.
Berries (Black, Blue, Rasp, Straw)- to feed all sorts of animals, from foxes to songbirds
Rubber Boots (Large)- to keep our interns dry when they are hiking out to cages in the woods.
Rubber gloves- for cleaning LOTS of dirty kennels and laundry
Sponges- to keep dishes and counters clean
Large Metal Trash Cans- as rodent proof food storage.
Scotch tape- to tape up signs, cage cards and diet charts.
Postage Stamps – to help us pay bills, send thank you cards etc.
Eco- and septic friendly dish soap and laundry detergent- for LOTS of dishes and  laundry
Gift Cards: Ace, Browne's, Marketplace- to help us buy paint, lumber, and other supplies to keep our center spruced up
You can also take a look at our Amazon Wish List!
http://www.amazon.com/gp/registry/wishlist/1C3UX3G0ZEQNY/ref=cm_wl_sortbar_o_page_1?ie=UTF8&sort=rank
THANK YOU!