Wolf Hollow Open House – Sat April 4th, 11am-3pm
Have you ever wondered how big our Eagle Flight enclosure is or what facilities we need to care for seals?  Now's you chance to find out, before our busy summer season begins. Come to our Open House to meet staff and board members, take a guided tour of our facility and learn more about the work we do.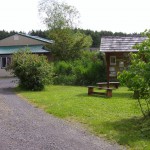 Parking at Wolf Hollow is very limited so please park in Friday Harbor and catch our shuttle bus, generously provided by San Juan Transit. The bus will pick up passengers in front of San Juan Grange (on First Street, just up from the Whale Museum) at 11.a.m., 12 p.m., 1 p.m. and 2 p.m.
Injured Owls and Orphaned Otters, April 8th, 7 pm, Anacortes Library
More than half of the injured and orphaned wild animals cared for at Wolf Hollow come from Skagit County, including many from Anacortes. What types of animals are cared for? Why do they need help? How do we rehabilitate them for release back into the wild? Join staff and volunteers from Wolf Hollow to find out the answers to these and any other questions you have about your local wildlife rehab. center. (This is part of the library's evening presentation series. Go to www.library.cityofanacortes.org for more details).
20th Bite of Orcas – Sat May 23rd, 11am-3pm, Eastsound Village Green.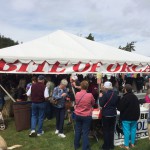 Join us to celebrate the 20th anniversary of this fun event. Salads and soups, pizzas and pies! Drop by to taste all kinds of delicious foods provided by Orcas restaurants and cafes and support our work at Wolf Hollow while you munch.