Working With Wildlife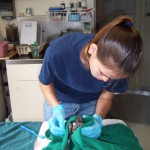 We want the animals we care for to have the best possible chance of survival when we release them back into their natural habitat, so we want to KEEP THEM WILD. This means that some behavior that is suitable when caring for domestic animals is inappropriate when dealing with wildlife. During our rehab work, we aim to minimize human contact. This includes limiting handling of the animals and avoiding unnecessary talking near our wild patients.
Not A Veterinary Internship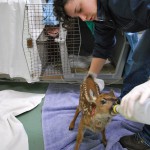 Our internships are intended to provide an introduction to Wildlife Rehabilitation, not to provide training in Veterinary Medicine. Interns have the opportunity to observe or assist with examinations and treatments from time to time, but many of our patients are orphaned or separated youngsters and the focus of the internship is animal husbandry, supportive care and preparation for release back into the wild. Interns learn handling, food preparation, feeding techniques and housing requirements for the wide range of species we treat, including songbirds, water birds, raptors, raccoons, deer and seals.
Unglamorous Work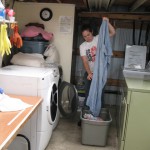 While interns gain a lot of hands-on experience working directly with the animals, a large part of the work is indirectly related to animal care. Food preparation, cleaning, laundry and facilities maintenance are just as important for the well-being of the animals in our care and are essential to the smooth running of the facility. It is important for interns to realize before they come to Wolf Hollow that, while they may have a special area of interest, they will still be expected to carry out a whole range of other tasks and work with all the species in our care.
Physically and Emotionally Demanding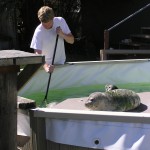 Working in a Wildlife Rehab. Center can be very physically demanding. Our staff and interns work long hours and are on their feet most of the time. They work indoors and outdoors in all weather and walk considerable distances to and from the woodland enclosures on our 40 acre site. Interns must be able to lift and carry food buckets, bags and other items weighing up to 50 pounds. This work can also be emotionally challenging as interns work with sick and injured animals, some of which may die or have to be euthanized.
Euthanasia
Our goal is to treat all injured or orphaned animals that are brought to us and release them back into the wild. Unfortunately this is not always possible. Animals are brought to us that are too sick or badly injured to be treated and released. In these cases euthanasia is an alternative that is considered. Such a decision would be made, and the animal euthanized by the rehab staff, however, this is a situation you will come across if you work at Wolf Hollow. Some people find this policy distasteful, but we consider euthanasia to be one of the alternatives available for us to relieve pain and suffering in sick or injured animals.