Our Education Mission
Since it was founded, Wolf Hollow has sought to increase peoples' interest in and understanding of the wildlife living around them, and to increase their awareness of the impacts of human activities on wildlife and their habitats.
---
Education Outreach Program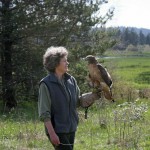 Our Education Outreach Program includes a wide range of activities to reach people of all ages, including local residents and visitors, children in school classes and summer camps, groups such as Scouts and informal family gatherings at local campgrounds.
Our aim is to help people learn more about local wildlife, to spark their interest in the many wild creatures that live all around us, and to make people aware of the ways our activities impact these animals.
In any week we may:
Send information to a 5th grader who is doing a class project on seals

Give a slide show on "Wildlife on the San Juan Islands" to a Road Scholars Group

Use educational artifacts such as feathers and skulls to illustrate points to a school class studying birds

Set up our educational displays and booth at a local event

Lead wildlife activities for kids at an outdoor education camp

Involve one of our educational birds in a presentation on "Human Impacts on Wildlife"

Spend an evening answering questions about local wildlife at a campground
Some presentations are at regularly scheduled times, such as weekly evening talks at parks and campgrounds during the summer months (watch our education calendar for times). But, mostly presentations are done "by invitation." Teachers or group leaders invite us to give presentations or lead activities on a particular wildlife topic.
If you live in San Juan or Skagit Counties, and would like to learn more about local wildlife, human impacts on wildlife, or what we do at Wolf Hollow, please call Shona, the Education Coordinator, at 360-378-5000, or email: saitken@wolfhollowwildlife.org.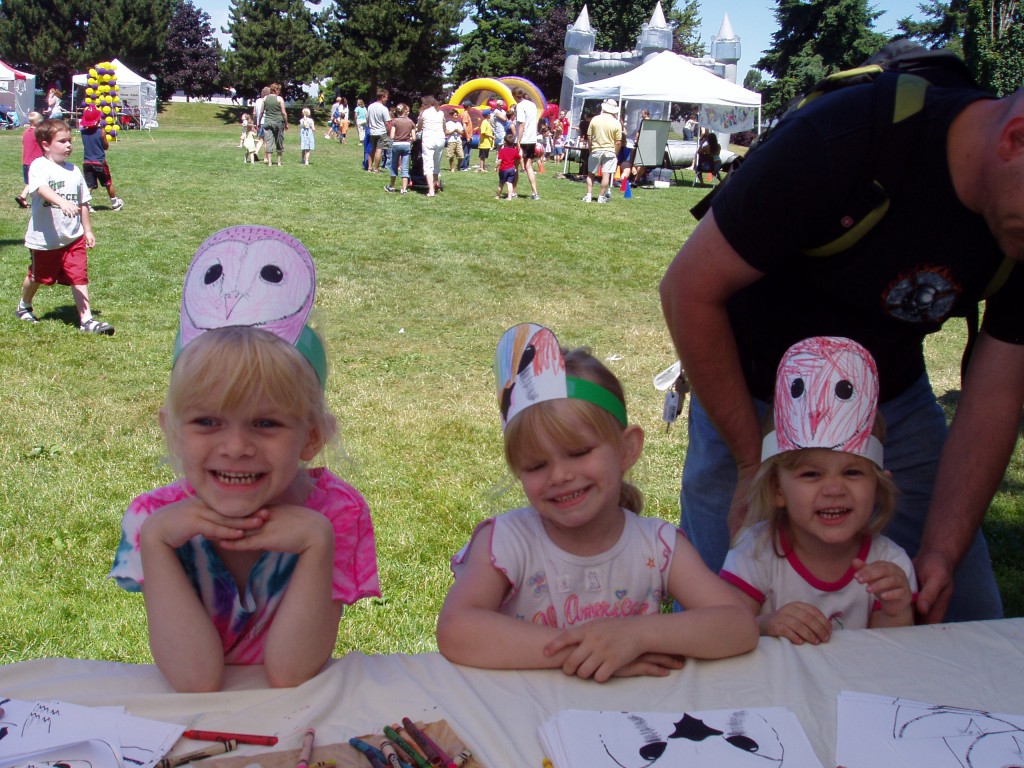 Making Raptor masks at a festival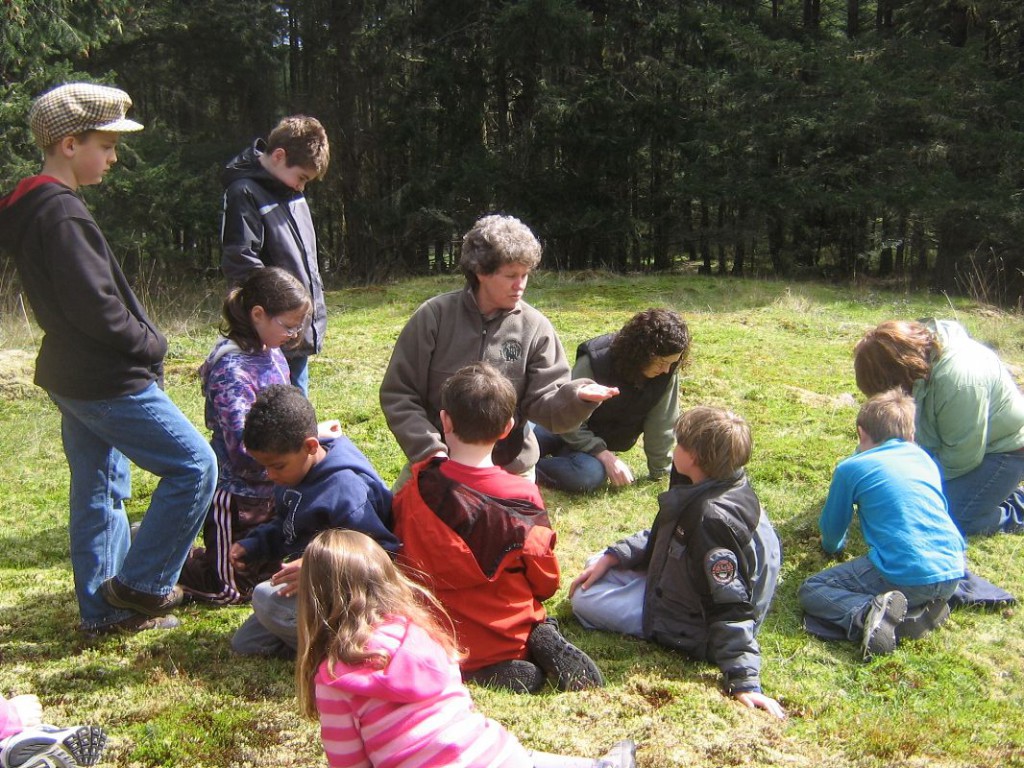 Outdoor learning with a class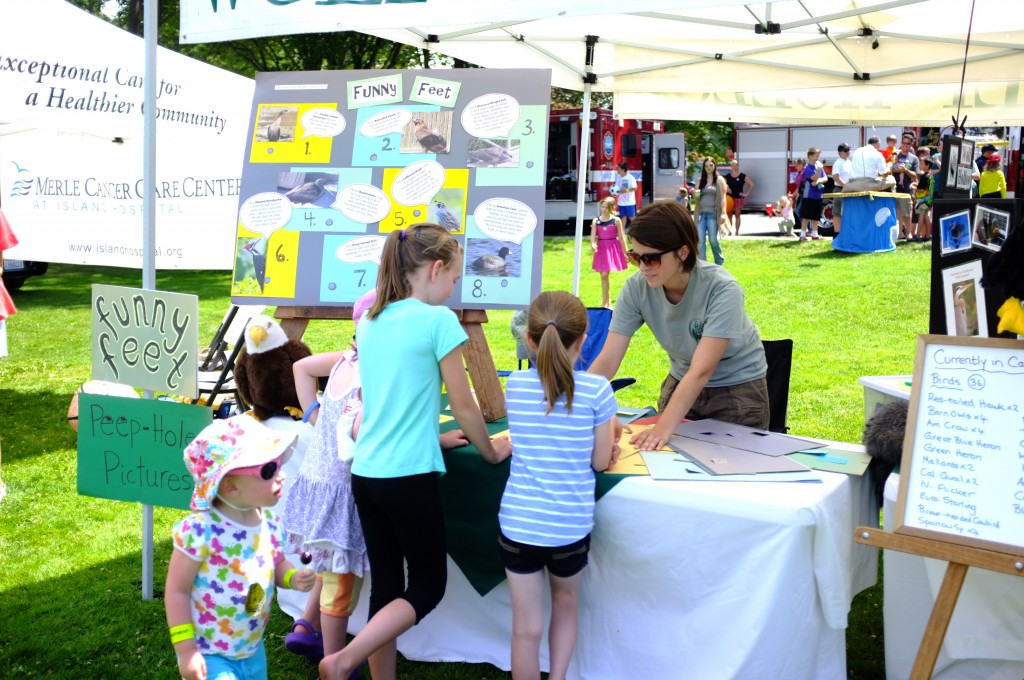 A Wolf Hollow booth at the Anacortes "Kids R Best" festival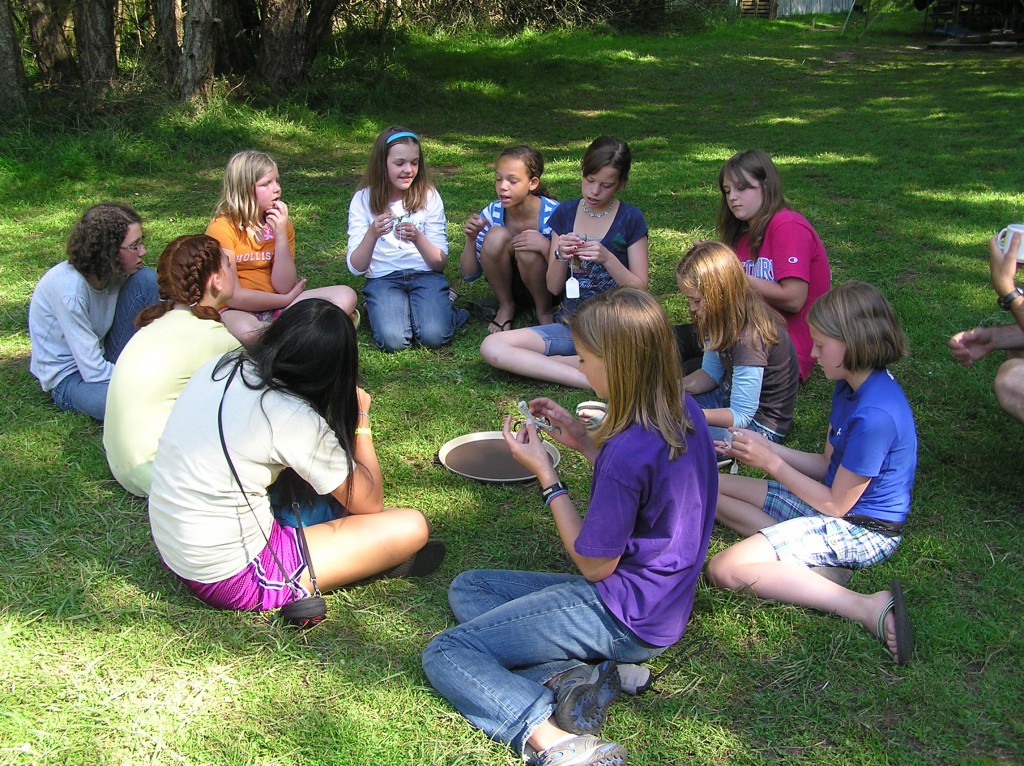 Summer camp kids examining bird feet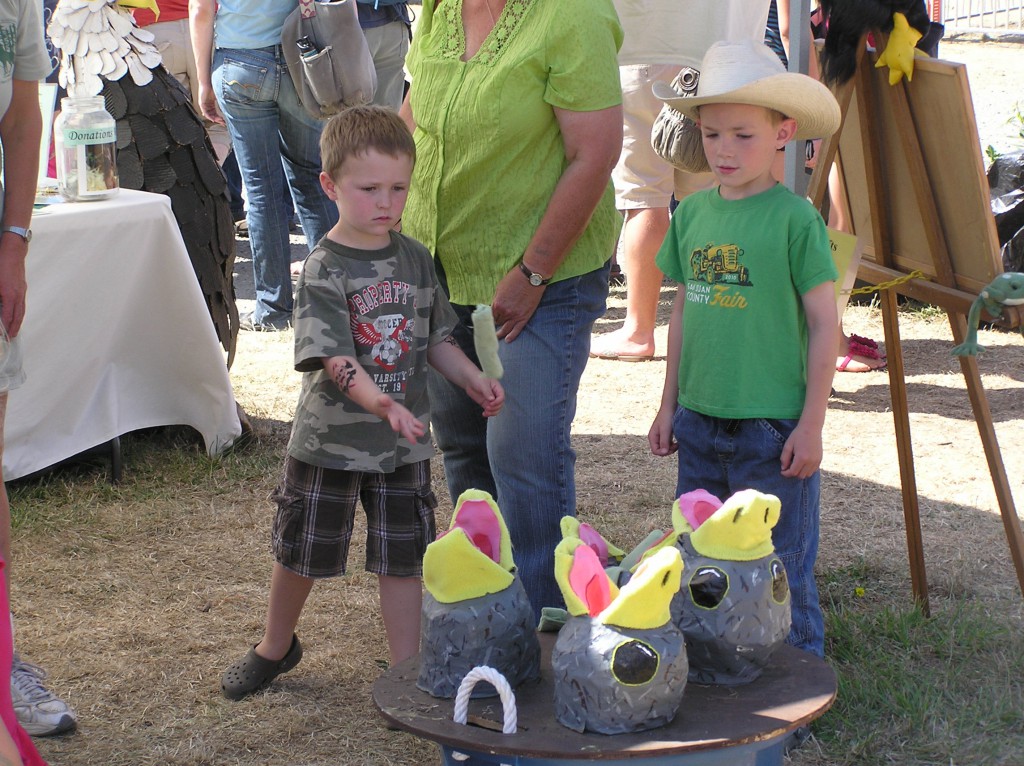 Feed the Birdies!
---
The Education Coordinator's Role
Wolf Hollow's full time Education Coordinator has a range of duties including:
Producing Wolf Hollow's newsletter: "Wild Times".
Updating the education content of our web site.
Maintaining community connections with other organizations and individuals.
Running the internship program
Writing articles about local wildlife for newspapers.
Caring for and working with our educational animals.
Organizing the educational outreach program.
---
Wolf Hollow's Education Birds
Wolf Hollow holds permits from US Fish and Wildlife Service and Washington Department of Fish and Wildlife to keep a small number of un-releasable birds to take part in educational outreach programs. We currently have two resident birds.
Aspen – a male Rough-legged Hawk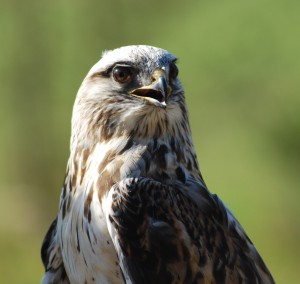 In November 1995 Aspen was found sitting on the ground in a field on Orcas Island, unable to fly. He was very close to power lines, so we guess that he flew into the lines and injured his wing. Radiographs showed a break close to the wrist joint in his right wing, which was too close to the joint to be surgically repaired. The break healed, but calcified so that the joint was stiff and he was unable to fly more than a few feet, so he couldn't be released back into the wild
His coloring showed that he was in his first year. Young birds are better candidates for training as education birds so we decided to get permission to keep him as part of our educational outreach program.
Madrona – a female Red-tailed Hawk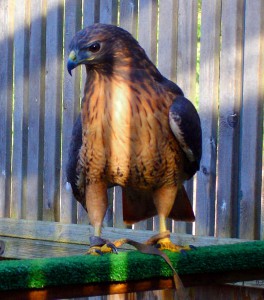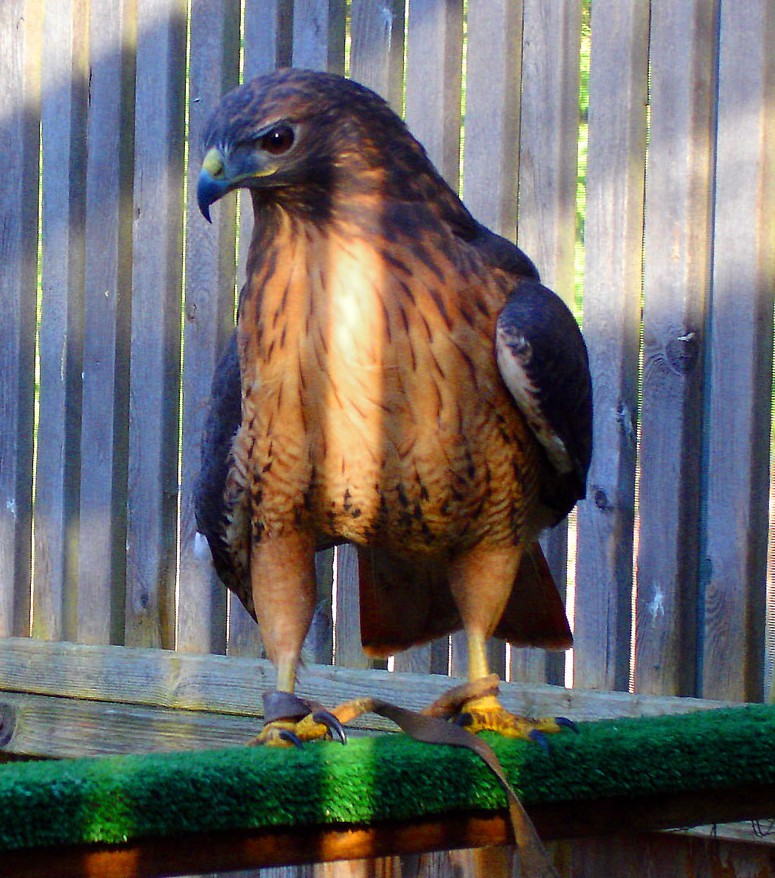 Madrona arrived at Wolf Hollow in October 1998 after being hit by a truck on Highway 20 near Anacortes. She had a break close to the shoulder joint of her right wing. The break was too close to the joint to be surgically repaired, but our vet removed bone fragments to stabilize the injury and prevent further damage to tissue.  Sadly, it healed with impaired mobility in the shoulder joint, so she could never fly well enough to hunt in the wild.
Her plumage told us that she was only a few months old so could be a candidate for our education program. In the first few days, she proved how suitable she would be by jumping out of her hospital kennel to land on a plate of meat and gobble it down – totally ignoring the person holding the dish!
Wildlife Ambassadors
Both these birds are important to our Education Outreach Program and accompany our Education Coordinator to give presentations about raptors, local birds, human impacts on wildlife and our work at Wolf Hollow. They have visited school classes, libraries, children's summer camps and elder care facilities in San Juan and Skagit Counties.
It is sad that these birds cannot be flying free, but these "wildlife ambassadors" have inspired many people to appreciate the beauty and wildness of wild creatures living around them. Seeing a wild hawk close enough to appreciate its beautiful feathers, sharp talons and hooked beak inspires people's awe and interest far more than any number of words or photos can.  They also help people realize how sad it is that beautiful wild creatures can be badly injured by our cars, fences, power lines etc and not be able to return to their life of flying free.