Because he doesn't have a mother…give him the gift of one with a special Mother's Day Adoption.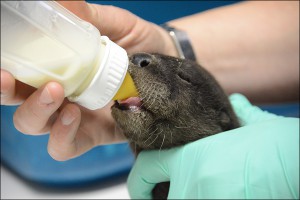 Adopt this baby River Otter in your mother's name and we will provide you with a customizable adoption certificate for you to give her on Mother's Day.
Adoptions are only $25 each – be sure to get one for all the moms in your life.
This little guy will be with us at Wolf Hollow for about six months, until he is ready to be released back into the wild. So, let your mom know, that with your help, we will be taking good care of him for her until then.
And tell her not to worry – we'll do the bottle-feeding.
Thank you for your continued support. It means so much to us and the injured and orphaned we care for.
Julie Duke
Executive Director
P.S. If you think your mother would prefer to adopt a different wild animal, please view our other adoption options by clicking HERE.