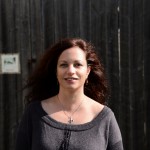 Julie's association with Wolf Hollow started back in 1997/98 when she was an animal care volunteer at the center while she was completing her Associates Degree at Skagit Valley College, Friday Harbor.  She continued as a wildlife transport volunteer on Orcas and later served on our Board of Directors. After moving away from the islands in 2004, she received her Bachelor's Degree in Psychology from Washington State University, then focused on non-profit business management and fundraising in Mendocino, CA and then on Bainbridge Island. 
She is very excited to come back to Wolf Hollow as Executive Director,
bringing with her the years of non-profit experience she developed while
she was away.   She is looking forward to becoming a part of the SJI
community, working with Wolf Hollow's wonderful supporters (and
feeding baby birds if the rehabilitation staff will let her!). 
In her spare time Julie sings with her blues band, The Julie Duke Band, and enjoys cooking, photography and long walks on the beach with her pugs.