At the end of May this female Elephant Seal pup was brought to Wolf Hollow for care. She was found stranded on shore near an RV park in Ocean Shores, WA.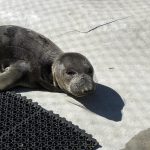 When she arrived she was extremely emaciated, weighing only 35 kg, and was very weak, so she needed intensive care. We provided the necessary medications and treatments and tube-fed her fluids initially before gradually introducing a special high-calorie fish slurry formula.
Since then she has made slow, steady progress and has received excellent care from our rehab staff and team of marine mammal vets (Dr. Jenny Ladd and Dr. Joe Gaydos of SeaDoc Society). After two weeks of care, she was stronger and more active, eating whole fish and spending time swimming in her pool.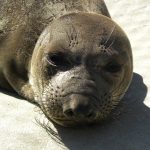 On June 9th she was transported to The Marine Mammal Center in Sausalito, CA. There, she'll be with other Elephant Seal pups to receive long-term care until she's ready for release back to the wild.