Meet our New Rehab Staff Member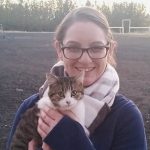 We welcomed Megan Perry to our staff team in January 2019.
Megan first visited San Juan Island in 2010 for an internship with Wolf Hollow. The experience sparked her interest in wildlife rehabilitation, and she returned in the summers of 2013 and 2017  as our seasonal Wildlife Rehabilitator. She graduated with a BA in Human Development from Long Beach State University in 2009, and returned to school to earn her AS in Veterinary Technology from Carrington College, California in 2015. She holds a Veterinary Technician's license in both California and Washington State, and has worked at several veterinary hospitals. As a staff rehabilitator, Megan will be involved in all aspects of animal care, and in training and supervising rehab staff, interns and volunteers.