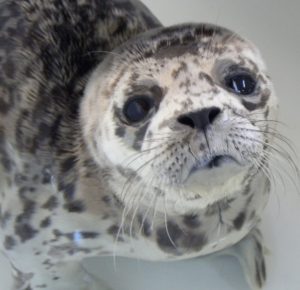 Thanks to all of you, Wolf Hollow was able to meet, then surpass, our fundraising goal with the San Juan Island Community Foundation Virtual Grant Program during the County Fair.
As of today, the Salish Sea Harbor seal pups will receive $15,220 due to your generous support. We are all truly humbled and grateful to all of you who contributed during this virtual opportunity and to everyone who has supported us along the way. The monetary support, in kind donations or your volunteer effort are all deeply appreciated.
The funds raised come just in time to purchase more fish, cover the doubled electricity bill and the veterinarian costs. A huge thank you to San Juan Island Community Foundation for developing this  special opportunity for the community to come together to support nonprofits. Wolf Hollow is honored to be among such wonderful organizations helping people and animals.
We thank you again and again for supporting this life saving work!
Chanda Stone Executive Director
Shona Aitken Education Coordinator
Penny Harner Wildlife Rehabilitator
Abby Fuhriman Wildlife Rehabilitator
Marc Brown President – Board of Directors
Susan Waters Vice President – Board of Directors
Bex Bishop Secretary – Board of Directors
Chris Minney Board of Directors
Cindy Hansen Board of Directors
Sarah Boden Board of Directors
Albert Barsocchini Board of Directors
Thank You!