Shona Aitken – Education Coordinator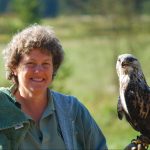 Shona was born and raised in Scotland where she earned a degree in Biology and Environmental Science from the University of Stirling, before working for the Royal Society for the Protection of Birds and as a Countryside Ranger for several years. She spent two years working at a Marine Station in Sweden before moving to San Juan Island in 1990. Shona started volunteering at Wolf Hollow later that year and soon became a member of the rehab and education staff.
As our Education Coordinator, Shona's aim is to help people learn more about local wildlife and human impacts on these animals and their habitats. She coordinates our Educational Outreach Program, produces our newsletter, "Wild Times", works with our https://j-galt.com/accutane-30mg/ education birds and coordinates our Internship Program.